« Une toile c'est l'interprétation de ce que tu vois à travers ce qui je suis... »
Vanessa Roberge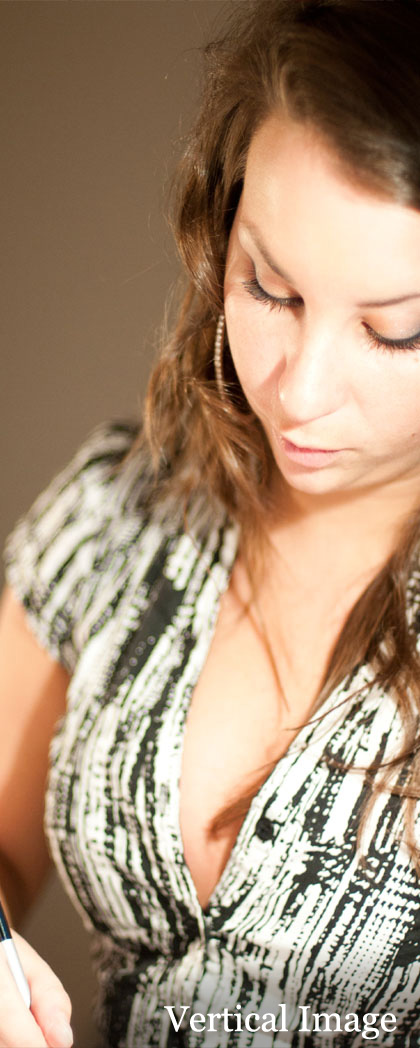 Vanessa Roberge is a young Quebecer artist born in 1986. Gifted with an artistic flair in every dimension of her life, she quenches her thirst for creation with many art forms. During her studies in Arts and Media, Vanessa worked with acrylic for the first time in her life. Free-spirited and yearning to learn by herself, Vanessa soon felt oppressed by the academic world, despite her passion for art. It was only after graduating that Vanessa dared to show her own painting method.
Provocative pictures are Vanessa's main source of inspiration. Those troubling depictions drive her to create relentlessly and obsessively. The artist's eclectic style is a reflection of her spontaneous and free character. Characterized by the schematization of her portraits, her unique creations are reminiscent at once of Cloisonnism, Pop Art and Comic books. In addition, Vanessa has been focusing on various colour, aesthetics, and light studies which are also reminiscent of Art Deco and graphic arts.
Vanessa is driven by Mankind's overall complexity. She is fascinated by both the bodily and spiritual nakedness of humans, as well as by the forces which drive them to survive every day. Her canvases let her characters' psychic and emotional energies shine through, keeping them prisoner within their own frame.
Permanent artist, Émeraude Gallery
301, Saint-Paul Est
Montréal, Québec, Canada H2Y 1H1
Phone : 514.845.2121 – Fax : 514.868.1119
Hours
Monday to saturday: from 10 am to 6 pm
Sunday: from 10 am to 5 pm